May 16, 2019
Record Grabber Portal: Updated Functionality
The Record Grabber portal is receiving a facelift. With a little feedback and some ideas of our own, the Record Grabber portal has been made easier than ever! Keep reading to learn more about added features and how it has been reorganized.
The Dashboard
When you first sign into the Record Grabber portal, you see your Dashboard. This page now has easier access to all your requests (no more archived requests, they're all here!), better filtering, and an added search feature.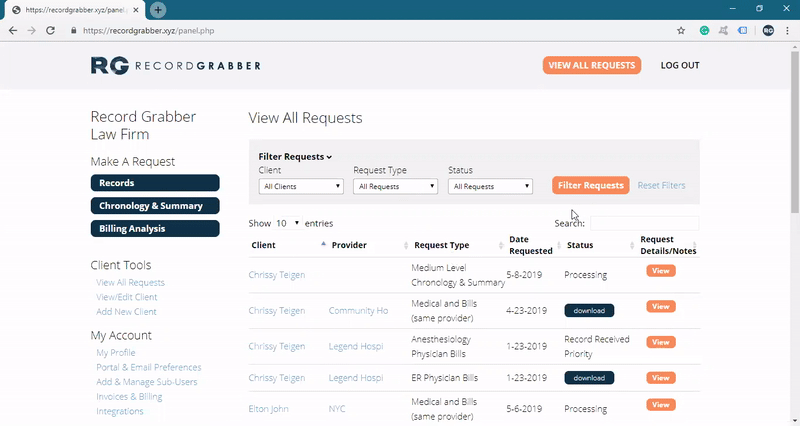 Billing Analysis
Our new Billing Analysis service takes all of your client's medical bills and makes a single easy to read spreadsheet. This allows you to see everything you need to know about the bills all in one place and save hours sorting through bills. View sample here.
View Client Page
Another awesome new feature is the updated client page. You can easily manage client requests from their individual client page. To achieve this, we have added an Overview section at the top of the page to quickly see what requests have been made. You can easily make requests from this section. A table breaks down the individual requests that have been made for that client at the bottom of the page.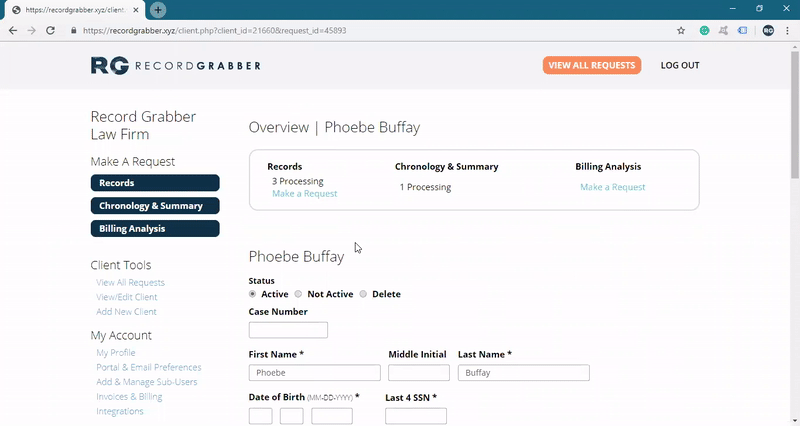 Reorganized Sidebar
We've done some reorganizing on the left-hand sidebar to make life a little easier. In doing so, all requests can be made from easily clicking one of the buttons at the top. The Client Tools section contains all things relating to your clients and their requests. The My Account section holds all things related to your account (your profile, preferences, sub-users, billing, and integrations). Our added Resources section has useful tools for anything having to do with the Record Grabber portal (training, demos, common questions, HIPAA authorization form).
Overall Easier Functionality
In conclusion, streamlining the Record Grabber portal has maximized efficiency. With better organization, the portal is now overall easier to navigate through. The main goal was to make it easier to sort and organize requests. The reorganized Dashboard and updated Client page have accomplished this.
Want to learn more? Check out the demo!
Stay in the loop!

Get important updates, special offers, and more. Sign up today!