June 9, 2015
Record Grabber: Customer Service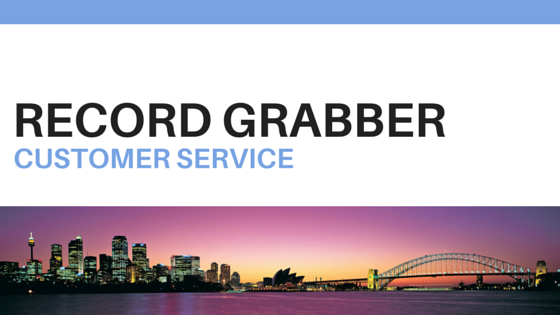 At Record Grabber, we are constantly working to improve our quality of service with our current customers and future ones. We have implemented a system that allows us to be in direct contact with our customers and address any concerns or needs that they may have. We strongly hold our company goals of integrating technology and superior customer service into a system that is fast, simple, and secure to use.
---
Account Manager
Record Grabber customers have a personal account manager that keeps all accounts up to date and running smoothly. This service includes assisting customers with any problems or concerns with the website and/or record concerns. Much of the business process happens because of the support from the account manager allowing the current customers to receive records and creating opportunities for new customers. Implementing an account manager lets Record Grabber to keep our customers the number one priority in the retrieval process and helps ensure the best quality service we can provide.
Medical Record Retrieval Specialist
To ensure the best quality of attention to each request, Record Grabber Operations Specialists follow up with each provider and request a status update on requests every three business days. Record Grabber's real-time activity tracker allows customers to see time-stamped notes regarding what was discussed with the provider every time a request is followed up on. Our turn-around time is approximately two weeks, this is two times faster than the national average in record retrieval. This follow-up process allows Record Grabber to keep the retrieval process streamlined so there will be no delays with the retrieval of your requested records.
24 Hour Processing
Record Grabber takes pride in our ability to process requests within 24 hours of ordering for our customers to receive records in a timely manner. Each request submitted is processed within 24 hours. From there, the request process is streamlined. The processing details include when we call the provider and how often we contact the provider after the initial request has been confirmed. After this, we call every three business days asking for details on the request status and you can request to have us contact the provider more often if necessary. There is no extra fee for asking for specific requests to be expedited.
Status Updates
Record Grabber provides customers with real- time, date-stamped status updates with the current status of each record request. These updates are meant to be a transparency within the business so customers are never unsure on the current state of the retrieval process. This clarity allows customers to focus on their business and let us take over the process. Once the request has been fulfilled, the customer receives a notification email that the record is available for download.
---
Record Grabber supports our customers with the best technology and quality of service for each request. We make sure that the process is fully streamlined for your convenience and allows you to focus on the more important parts of your business. We value our goals and we stand by them, and we continue to offer a service that is fast, simple, and secure for all of our customers.

Stay in the loop!

Get important updates, special offers, and more. Sign up today!